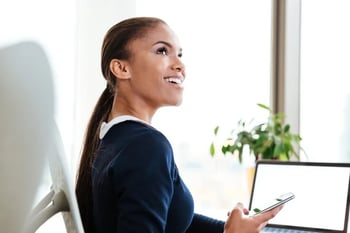 Looking for technology that makes a difference?
With so many decisions to make for apps and software, it's important your choices propel your productivity.
Here are 3 reasons to use Dragon Professional Anywhere... software that let's you speak wherever you normally type!
1. Fun & Simple to Use
Isn't it amazing we can talk to our mobile phones and see our text messages appear? It is so much easier than typing! So why not use your voice for everything you document? With Dragon Professional Anywhere you can even use your mobile phone as a microphone for your computer. Letters, contracts, plans, and anything you write and edit can be done with ease! Dragon Professional Anywhere can be used for any field: Financial, Insurance, Government, Journalism, Students, Educators, Bloggers, and more. Use in your choice of documentation products from Microsoft Office to web-based Google Docs Editors Suite.
2. Boosts Productivity
This speech recognition software is 3x faster than typing and up to 99% accurate! Most people speak over 120wpm but type less than 40wpm. Dragon Professional Anywhere will shorten the time it takes to write claims, financial planning documents, essays, teacher's plans, and more. Faster turnaround on documentation will allow time to focus on other business needs that haven't had your attention.
3. Easy on the Pocketbook
Dragon Professional Anywhere is affordable, subscription-based pricing with little upfront capital investment. It makes it easier for public and private sector enterprises to plan budgets with predictable expenses. It also lessens cost for your IT staff because being cloud-based there are no complex configurations and updates are automatic. Along with one-click installation, DPA is less time and hassle for IT staff and employees. Also, no per-user limits allows business professionals productivity anytime, anywhere at no extra cost.
Dragon Professional Anywhere even allows you to use your voice to send emails, share documents, save dictations or even complete copy and paste functions. Documentation has never been easier!