Dragon Professional Anywhere

- Cloud-Based

Combines the most powerful speech recognition engine
with the simplicity, scalability, and reliability of the cloud
Easy to install, maintain - and even virtualize - it delivers essential
new features and a streamlined user experience within minutes
Dragon Professional Anywhere



Dragon Connections Packages provide everything to assure ease of use and simple workflow integration.

Receive One-on-One Training
Dragon Professional Anywhere
Mindware Training Materials

We work with all levels of computer users - beginner to expert.
For the Busy Professional... create documents, send e-mails, fill out forms and streamline workflow tasks!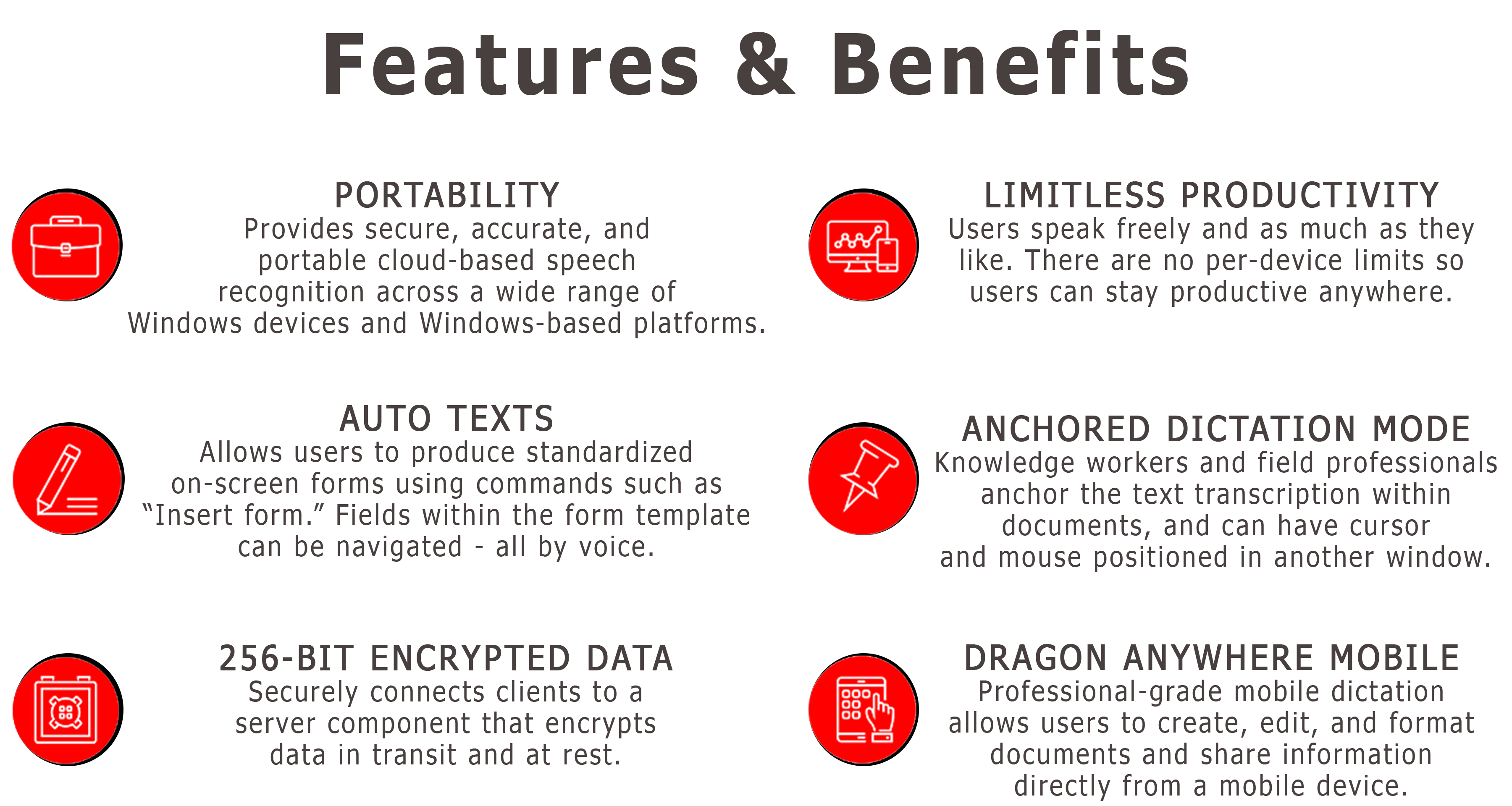 Dragon Professional

- Computer-Based
Training Packages with Software



Dragon Connections Package - Professional Individual



Dragon Connections Packages provide everything to assure ease of use and simple workflow integration.

Dragon Professional Individual V15
Mindware Training Materials

We work with all levels of computer users -
beginner to expert.
For the Busy Professional...
create documents, send e-mails, fill out forms
and streamline workflow tasks!

$795

Dragon Connections Package - Professional Group





Dragon Connections Packages provide everything to assure ease of use and simple workflow integration.

Dragon Professional Group V15
Mindware Training Materials

We work with all levels of computer users -
beginner to expert.
For the Busy Professional...
create documents, send e-mails, fill out forms
and streamline workflow tasks!

Features/Benefits

Nuance Management Center for central administration
Dragon Professional Group speech recognition client software
Optimization services

$1095
Software Only
Dragon Professional Individual V15 - Software Only

For the Busy Professional...
create documents, send e-mails, fill out forms and streamline workflow tasks!

$295

Dragon Professional Group V15 - Software Only

For the Busy Professional...
create documents, send e-mails, fill out forms and streamline workflow tasks!

$595