Dragon Financial Services Sales, Training and Support
Accountants, Financial Advisors, Brokers and Bankers Refine Customer Service with Mindware Connections' Speech Recognition Solutions
Mindware Connections enables CPAs, financial planners, wealth managers, bankers and securities brokers to create documents and financial files quickly with noticeable reductions in the time it takes to complete data entry and editing tasks. We deliver increased productivity throughout all documentation, compliance and administrative processes.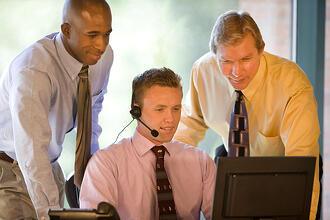 By dramatically reducing the time it takes to create digital documents, professionals and administrative staff are able to focus time on the services their company delivers.
Reduce reliance on support staff
Easily document activities and create email/documentation
Customize the vocabulary for the words you use regularly
Reduce turnaround time on document location and reuse
Mindware's
Dragon Connection Package- Professional
, is a turnkey installation, training and consulting solution customized to a firm's needs, and includes everything required to ensure simple workflow integration and ease of use.