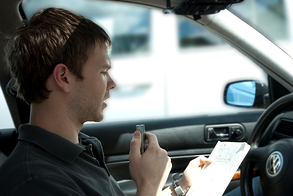 Can you imagine an insurance adjuster doing long addition with a paper and pencil to add up the dollar amounts on a claim? Of course not... they would never finish! With the advent of computers, adjusters now input numbers into a software program and PRESTO... the numbers are automatically calculated! It's magic! However, most adjusters are still typing the majority of the report - this is where Dragon Speech Recognition Software can make a difference. With the increase of natural disasters these days, adjusters have more claims than ever to work through. Dragon Naturally Speaking is the new magic that changes typing to speaking.
Insurance companies are faced with increasing difficulty keeping up with claims quotas, lack of quality and completeness of reports, and employee turnover because claims adjusters are tired of all the administrative work. Dragon is the solution!
6 Ways Dragon Naturally Speaking increases productivity:
Dragon is a time-saver, cutting documentation time by up to 50%, enabling adjusters to complete more claims each day.
Custom voice commands can be used to streamline and accelerate claims-related data input, improving the claims processing workflow.
Quality of reports are improved with more time available to review the report. The use of digital recorders allow all details of the claim to be captured in the field.
Dragon eliminates the need to use costly transcription services.
Dragon speeds documentation turnaround, enabling insurance companies to process claims more quickly.
Dragon streamlines traditional workflow, alleviating the need for large amounts of typing and enables agents more time to spend on the interesting areas of their jobs, which in turn reduces turnover.