Team play is critical to success... on the field (or rink) and off! Our Operations Manager here at Mindware Connections, Joan Moss, is a great example of team play. She fields calls from our customers, inquiries regarding Dragon Software, coordinates schedules, provides Dragon Speech Recognition technical support, performs sales and accounting tasks, updates information to our Application Specialists when they are on the road, everything to ensure a smooth running operation. She is something to brag about! So as they say, "The apple doesn't fall far from the tree..."
Mindware Connections is proud to congratulate Joan's daughter, Kristina Moss, the Rochester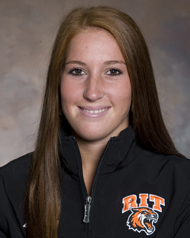 Press-Radio Club Paychex Female College Athlete of the Year! Kristina is a Junior Defenseman for the RIT Women's Hockey Team that finished with a 28-1-1 record for the 2012 season and won the Division III National Championship! Defensively, she held opponents to 30 goals in 30 games! Offensively, she scored 34 points - most of any defenseman in the country! And if that wasn't enough, an outstanding team player, she also had 27 assists, making her second among players in Division III Women's Hockey!
Majoring in Health Administration, Kristina is sure to be a major success in the the healthcare field in the near future, because she knows defense, offense and team play make for successful outcomes.
Dragon Speech Recognition works that way too!
Offensively - it helps providers streamline their workflow to add information quickly into patient notes, emails, and other documentation.
Defensively - it reduces or eliminates transcription costs, lag time for notes, misspelled words and extra time spent in the office.
Team Player - it makes providers, office managers and patients successful!
Congratulations Kristina! We are looking forward to all that you will accomplish!