It is invigorating when we wake up to face a day feeling excited about what we will accomplish. Motivation drives us to do our best in hopes of meeting goals, fulfilling dreams, living as an ex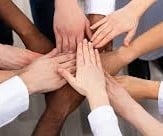 ample and/or preventing loss. It is an essential part of performance in anything and has certainly been challenged across all occupations this past year. If anyone has a reason to feel a lack of motivation, it is healthcare workers - especially those working with COVID patients. So how do you keep people motivated in such dire circumstances? Below are four ways to stimulate healthcare workers and keep their motivation moving in the right direction, with links to articles for more information on each topic.

1. TRAINING
No matter your job responsibilites, being trained on necessary and time-saving equipment, software applications, and crisis management is critical to your success and ultimately, the success of your organization. Employees need to feel prepared as they work through their day and encounter obstacles. Training makes the difference in many situations, providing better outcomes and reducing stress. If expertise is declared a core value... it is incumbent on the organization to validate that value with up-to-date training of their employees so employees can confidently answer questions and prove their expertise. If employees are not properly trained, they fail the customer, they do not uphold the organization's value and their self-confidence becomes deflated.
https://scienceforwork.com/blog/training-works-hint-motivation-matters/
2. FLEXIBILITY
Healthcare workers are working harder than ever and finding it ever more difficult to find a balance between work and personal life. Offering flexible scheduling can make or break motivating an employee to do their best. If an employee is forced to work hours that conflict with their child's needs, it only makes for a stressed employee trying to do their work while thinking about the most important thing in their life.
https://thebenefitsguide.com/the-benefits-of-flexible-working-hours/
3. EFFECTIVE COMMUNICATION
Open and honest communication produces a positive supportive environment. The ability for an employee to express their concerns, their triumphs, observations for improvement as well as needs to to do their jobs is not only a way to relieve stress, but a huge benefit to an organization.
https://www.gallup.com/workplace/312827/beat-healthcare-burnout-effective-team-huddles.aspx
4. RECOGNITION
Employment in healthcare can be a thankless job. Healthcare professionals are expected to arrive with a positive and cheery disposition to lift up their patients and provide emotional support. This is expected even when the personal life of an employee may be falling apart. Many days healthcare workers give everything they have only to get a negative outcome. Positive reinforcement and recognition of these employees is so important to help provide inspiration to continue their important and life-saving work.
https://www.gallup.com/workplace/236441/employee-recognition-low-cost-high-impact.aspx#:~:text=Workplace%20recognition%20motivates%2C%20provides%20a,company%2C%20leading%20to%20higher%20retention.
Many people look like motivation comes natural to them, however, everyone is driven by something. Finding out what moves your healthcare professionals is an asset and can make a difference in these very trying times.