Are you having trouble while trying to dictate within your EHR?
Some web-based, or Citrix-based, EHRs may not allow you to dictate in formatted areas, or in certain text boxes.
Is your cursor in the correct spot? If your cursor is not within the text box, you will not be able to dictate!
There are documented quirks between Dragon and Citrix, such as:
Capitalization

Spacing

Poor accuracy

Commands not working

Playback/Correction functions

Inability to create and use templates and shortcuts
You will find that using the DICTATION BOX within the EHR and then transferring the information that you have dictated using the "Transfer Text" command or the Hot Key, if set, will alleviate some of the issues that you are experiencing.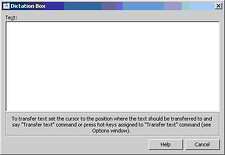 The dictation box is a part of Dragon software, therefore, you have the full functionality of Dragon. You will be able to dictate without worrying about capitalization, spacing after punctuation, or your commands not working. In the dictation box, you will be able to select and correct any errors that you encounter.