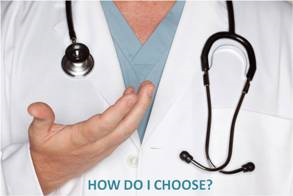 Sometimes we make purchases without thinking through what will work best for our workflow. Selecting the right computer can be one of these purchases and will make a huge difference in your workflow and in how productive you will be with Dragon.
Here are some points to consider when trying to choose the right one:
Desktop Computers – Least Expensive
These computers are stable and have less chance of breaking because they are not being moved around.
From a cost perspective, on average you can probably buy 2 desktop computers to the cost of 1 laptop/tablet.
If a desktop can be put in each exam room, the provider is able to enter patient information in each room and then finish up notes in his or her office or clinic area. Audio devices can be left set up with each computer, so there is no need to carry accessories around.
Laptop or Tablet Computers - Mobile
Generally, lightweight and small, providing access to information wherever you are.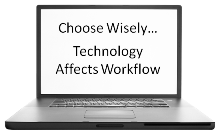 One important factor to consider is battery life and how you will charge them.
We recommend using with a docking station, while "docked" the computer will charge and also connect your microphone for dictation. This eliminates the plugging and unplugging of both the power cord and the microphone when you go mobile with your device (seeing patients, etc.)
Many providers also have a larger monitor connected to the docking station which allows for easier viewing and working.
Note: Microphones that are built into computers do not usually have enough quality to create good sound. (Some Lenovo and Fujitsu models have acceptable onboard microphones.) Therefore, a headset or some external audio device also needs to be carried with the unit in order to dictate.
Screen sizes are typically very small which makes it challenging to see and work effectively within many EMR systems.

Touchscreen Computers – Laptop/Tablet or Desktop All-in-One
Touchscreens are available on many tablets and All-In-One Desktops, but many times people buy these and never use the "touch" functionality at all. The touchscreen functionality adds cost, so before choosing this option be sure you are going to use it!
On a side note regarding choosing a touchscreen, we frequently hear that providers feel they can simply utilize the click functionality to create a quality patient note. This results in, as my colleague calls it, "Death by a thousand clicks!" - trying to move thru a patient note by clicking numerous times in each section. You cannot compare the high quality result from dictating utilizing Dragon versus the countless clicks to "build" a pieced together patient note. This is especially pertinent in the HPI which should contain a narrative, unique for each patient, allowing the provider more control of their note avoiding a "cookie-cutter" outcome for every patient. There may still be certain parts within the EMR that will need to be clicked in order to complete a structured note... which will provide "Meaningful Use for ALL"!