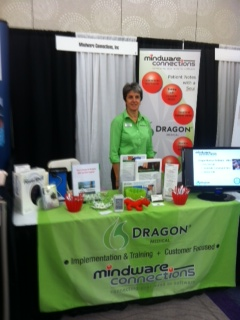 The Mindware Connections Team were honored to be a Gold Sponsor at the 2012 NYMGMA (New York Medical Group Management Association) Annual Conference held at the Hyatt this week in Rochester, NY.
The theme this year was "Leadership for the Future Workplace" and the presentations did not disappoint! Medical Group Managers from all across New York State came in dedication to advancing their Practice Management. Not only did they benefit from the educational presentations, but they were also able to exchange valuable information with fellow colleagues regarding the ever-changing world of health management.
More and more medical practices have come to see the awesome role Dragon Medical Software plays in helping to advance workflow in their patient notes and other parts of their offices.
Mindware Connections is pleased to be a part of this wonderful group of healthcare professionals striving to make positive changes in their organizations. Thank you to all who stopped by to find out about Dragon Medical Software – we were so pleased to make new acquaintances and build new relationships.
A special thanks to our current customers who inquired about helpful hints or came over just to say hello and have a laugh together. We love to see you and hear of your successes!
Can't wait to be a part of this great gathering again next year!