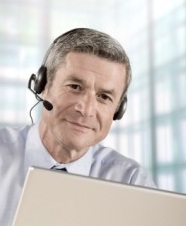 Dragon Speech Recognition Software usually comes with an approved headset to use on any computer. However, there are a vast amount of audio device choices for use when dictating. There are so many choices, that it can be quite a task trying to decide what type of device you want to use. So to help you out, here are a few things to consider when choosing a microphone:
1. Is the environment in which you'll be dictating quiet? If you will be in a quiet office, any recommended audio device will work. USB Headsets, Wireless Headsets, Desktop Microphones, Handheld Options, etc. Headsets and desktop microphones are a nice option, because they allow you to be handsfree. My preference is the desktop microphone, because I don't have to put anything on my head to start dictating.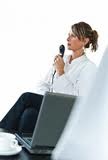 2. Is the environment noisy? A noisy area, will require a noise-cancelling device that has a more directional microphone, such as a handheld device. The best I have seen for these environments is the Nuance PowerMic II. A bit pricey, but worth the money when it comes to accuracy and ease of use.
3. What type of computer will you be using? If you have a desktop computer, your options for audio devices is wide open. However, if you are going to use a laptop or tablet, you will want to consider having to carry an audio device around with the computer. In this case, a Buddy Stylus is great because it connects to the computer via a USB port and clips into the holder. The stylus can be used for touch screens and has a microphone built into the top.
4. Is the audio device approved by Nuance to work with Dragon Speech Recognition Software? All microphones are NOT alike. Sound quality varies with different models and this will definately effect the accuracy of your dictations. Nuance offers a link http://support.nuance.com/compatibility/ that gives each user an opportunity to see what third party products they have tested for compatibility.