Speech recognition technology is providing improvement in productivity and helping to prevent burnout in many different fields of service. This blog by Ed Davis offers great insight into technology and how it is helping law enforcement today. Click on the links for some interesting information on how you can make life better for our law enforcement professionals...
By Ed Davis, Nuance Communications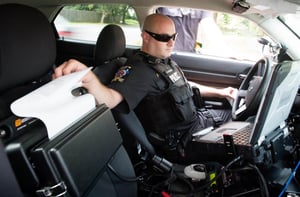 My career in law enforcement spans many ranks and several decades, and while there have been many changes as the result of advances in police technology, there are aspects of the job that remain consistent.
I think I speak for law enforcement professionals across the U.S. when I say that we would rather be catching criminals than doing the less glamorous side of our work that they don't show on "Law and Order" – creating countless incident reports when working a case. Police paperwork is crucial, but there's a reason they call it a necessary evil. It takes too much time and can keep us away from one of our most important tasks – protecting the citizens we serve.
According to a national survey of police departments, almost 40% of survey respondents said they can spend 3-4 hours each day on incident reporting and other documentation tasks. That translates to a quarter of the day spent on paperwork alone, rather than policing and protecting our communities.
Tools like speech recognition technology allow officers to dictate documents rather than manually typing them by hand, providing a better way to tackle the heavy documentation demands that plague officers nationwide.