Dragon FAQ's
Welcome to our Customer Self Service Center.
To better serve you we have comprised a list of the most Frequently Asked Questions. Simply find your question and CLICK on it for the answer.
Frequently Asked Questions:
If you don't find an answer to your question or an answer to your question please contact us at

info@mindwareconnections.com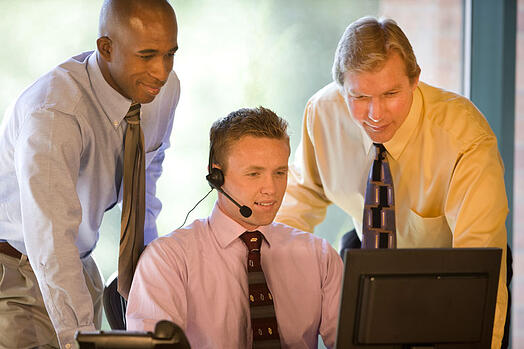 Dragon is not working
1. Insure all cables and power to the computer are connected.
2. Shutoff your computer- Try doing a complete power off of the computer.
3. Turn On Computer and launch Dragon - this typically fixes many issues.
Why did my accuracy drop suddenly?
1. Make sure microphone is positioned appropriately. The microphone on a headset should be facing the corner of the mouth.
2. If the headset is not placed properly, accuracy can drop because the system cannot hear you.
Why do I get question marks but words don't appear when I speak?
1. Audio calibrations should be done when the surrounding environment changes. This will help cancel out the noise around you.
2. The cursor needs to be placed where the dictation will start.
How do I change audio devices?
1. Create a new source when changing to a new audio device.
2. Only one recording device should be enabled while using Dragon. Unplug your current device, install the new device. Click 'Profile', Click 'Open User', Click 'Source', Click 'New', Choose the New Source to be set up.
Why are all of my words all capitalized or capitalizing the first word of every word?
1. Speak in a natural tone of voice.
2. The system may have thought you said "All Caps On" or "Caps On". Say "All Caps Off" or "No Caps".
Why did the system write "colon" instead of ":"?
1. Speak in phrases – the software will understand you better with more context.
Why are erroneous words appearing in my document?
1. Make sure to turn the microphone off or remain silent when you are not dictating.
2. Do an audio calibration if your environment has changed.
Why do the words "scratch that" appear when I say "scratch that"?
1. Pause briefly before you use a command. If the system hears the command along with dictation, it will assume it is something you want dictated.
How do I add a word into the Vocabulary?
1. Add & Train words in the Vocabulary Editor.

Click 'Vocabulary', 'Open Vocabulary Editor', Type the word in the 'Written Form' box. Click 'Add'. Then train the word.
How do I add an entire list of new words?
1. Add Lists of words by importing.

Create your list in Notepad and save the file. Click 'Vocabulary', Click 'Import list of words or phrases'. Follow prompts.
Why does my accuracy keep dropping?
1. Clean out garbage words.

Check your Vocabulary Editor for any garbage words. Click 'Vocabulary', 'Open Vocabulary Editor', By 'Display' click on the dropdown and select 'Custom Words'. Delete out any words that are erroneous

.